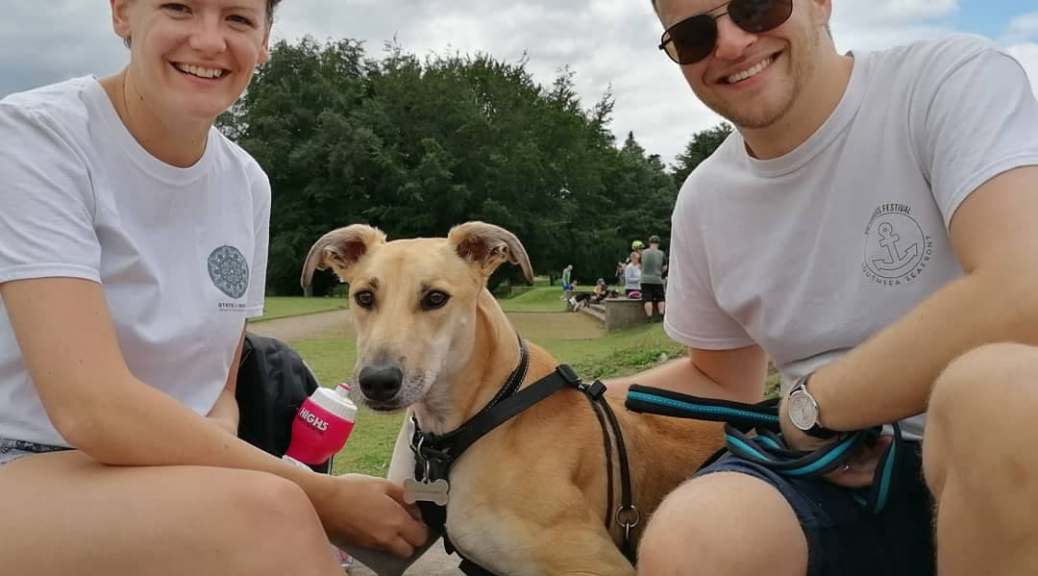 Sam and Hannah's Training Journey with Noodle
Hannah and Sam share their training journey at On The Ball with their nearly 2 year old Lurcher Noodle.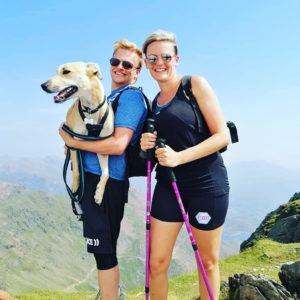 Noodle came into our lives at 10 months old as a rescue from the RSPCA. He was full of life and a complete live wire! Having recently lost our placid 14 year old Greyhound, we knew that a 10 month old would be a challenge but we weren't really prepared for just how much!
Our biggest challenge was walking. Noodle had been given up to the RSPCA due to neglect issues and spent some time in hospital. He wasn't used to being on a lead – at the rescue centre they would go from their kennel straight into a paddock to run free.
Our first walk was a nightmare! He literally had no idea what he was supposed to do, so he was jumping up and nipping at us and the lead, and acting all goofy. Recall was also non-existent as he was far more interested in other people and dogs.
We did spend time wondering if we had made the right decision, and whether we were the best home for noodle. Were we experienced enough? Our confidence was really lacking – we knew we needed to get some help.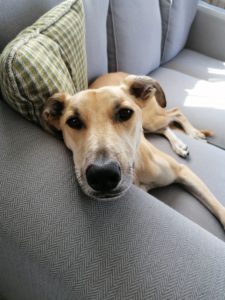 It was by chance we came across Nikki at On The Ball through a search on Google. We started with the Obedience workshop to work on the lead walking. At our first training session Noodle was all over the place – we think back to that first session now and we can't believe the difference. Nikki told us to keep coming back, and to trust in the process and we are so glad we did!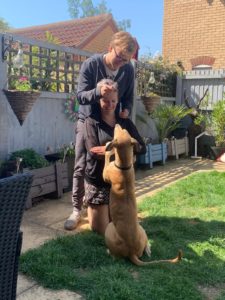 We can now walk Noodle on lead without any problem. We are armed with tools to know what to do in the moment if we are caught off guard – and his recall now is so much better.
Being a rescue dog, we did start to wonder if he actually knew that we were his family. He would always go up to other people for fuss and didn't seem to have much interest in coming back!
Through training, our relationship and bond has grown so much that now we have no doubt that he knows who we are! He still loves people mind you, but he always comes straight back!. Those little check ins that he makes when we are out, looking back to us, they are the little things that mean the world!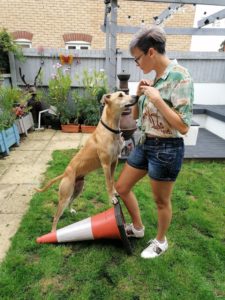 Once we knew Noodle was happy with training at the village hall we thought we'd try a recall workshop that Nikki was putting on at the field. It's always been a dream to try agility, so we wanted to test out the environment first. He was excellent! We were hooked and started to mix up his training with Game On at the field, and Obedience at the Village hall. We were just about to start Agility but lockdown hit!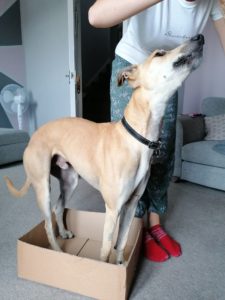 Nikki however made sure that we didn't miss a thing and put on virtual classes for everything!
This has in fact been a lifesaver, as most of the agility basics can be done at home anyway and it's meant that Noodle has been able to build up those basics in an environment with no distractions, so he understands what he needs to do. It also means that no-one is watching you except Nikki! This has really built up our confidence as dog owners as well as being super beneficial for Noodle.
The process of working up from village hall, to virtual and on the field, has meant that Noodle has been able to adapt to different environments at a pace that suits him.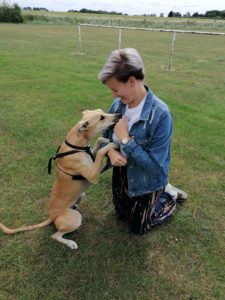 We honestly can't begin to imagine where Noodle would be right now if it hadn't been for training at On The Ball. Nikki told us to trust in the process and a year later she was 100% right! Noodle is a confident, more chilled out and happy dog, and we no longer have to worry about walking or his recall. He can happily take turns in class and sit on a bed and he's now started Agility at the field and is loving it.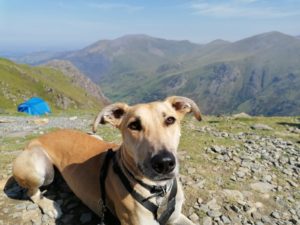 If you have been thinking about training, or perhaps think that you can't help your dog, then do what we did and trust in the process – it really does work!
If you want to see the same results that Sam and Hannah have experienced with Noodle then get in touch today!